Get to Know Us
- About CSNC -
Carolina Spine & Neurosurgery Center is one of the largest private spine care practices in North Carolina. We began in 1974 as Mountain Neurological Center. In 2012, CSNC teamed with the Mission-St. Joseph's Hospital System, merging our expertise and resources with Mission's administrative support. Today, CSNC operates as an independent part of the Mission Hospital System and is a major reason the hospital was named one of the top 101 hospitals for spine care by Becker's Hospital review.

See What We Offer
- Facilities & Locations -
The main CSNC facility is located in Asheville in the Vanderbilt Office Park, on Biltmore Avenue just south of I-40. This facility houses the Mission Spine Center, physical therapy, imaging center, surgical consultation and administrative offices.

Depending on who you're seeing, you'll check in at one of three locations.
Physical Therapy Patients
If your appointment is with one of our physical therapists, come through the double doors on the right side of the main hallway, just before the reception desk. That puts you in the Physical Therapy waiting room.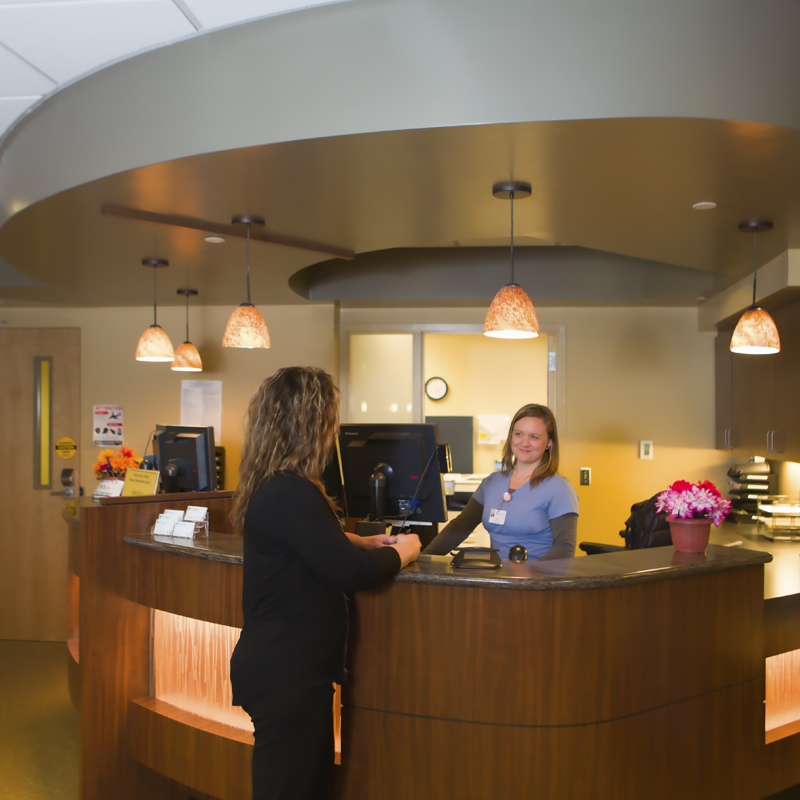 Physiatry Patients
If you are here to meet with one of our Doctors of Physiatry for an evaluation or non-surgical procedure, continue down the main hallway and past the reception desk to the Mission Spine Center reception area.
Surgery Patients
If you are here to meet with a CSNC surgeon, head down the main hallway -the elevators on your left. Go to the second floor where you'll find the Neurosurgery reception area. You can also take the stairs if you prefer.

- The Spine Center -
Part of the Mission Health System, the Spine Center is operated and staffed by the healthcare professionals at CSNC. From here, you can access all the services we offer - physical therapy, physiatry, neurological and orthopedic surgery. No referral needed. Having back or neck pain? Call and schedule an appointment. We can typically see you within 48 hours.
As you enter the building, the first set of doors on your right will take you reception and waiting area for our Physical Therapy center. If you're here for a therapy appointment, check in and we'll let your therapist know you're here.
Inside the Physical Therapy center is the gym, where most of our industrial therapy takes place. If you're recovering from a work-related injury, the gym is typically your first stop. It is fully equipped with aerobic equipment such as treadmills, elliptical, recumbent/upright bicycles, free weights, balancing aides, and a variety of resistive bands and equipment.
Just beyond the gym is the aquatic area. It includes a warm-water (94-degree) pool with depths of 4-, 5- and 6-feet. The pool also generates a current which can go as high as 7.5 mph that is great for safely improving your mobility, balance and confidence. We'll be with you in the pool at all times to make sure you're comfortable. This area also has both men's and women's two locker rooms with showers.
The Physical Therapy center also includes a number of therapeutic treatment rooms. Here, we offer a variety of non-surgical treatments like massage, myofascial release and TENS to help alleviate your pain and get you back to enjoying your life.

- Surgeon's Offices -
Our surgeons' offices and examination rooms are located on the second floor of the Spine Center. If you're here to talk with your CSNC surgeon, come on upstairs and into the reception area. Someone will be out to get you shortly.

- CSNC Offices -
In addition to our main location in Asheville, CSNC also maintains offices in Arden, Brevard, Columbus, Marion, Rutherfordton, Franklin, Clyde and Sylva. Each community location offers complete on-site imaging and diagnostic capabilities as well as physical therapy services. These offices are open on specific days of the week. Click on a location to get directions using Google Maps.